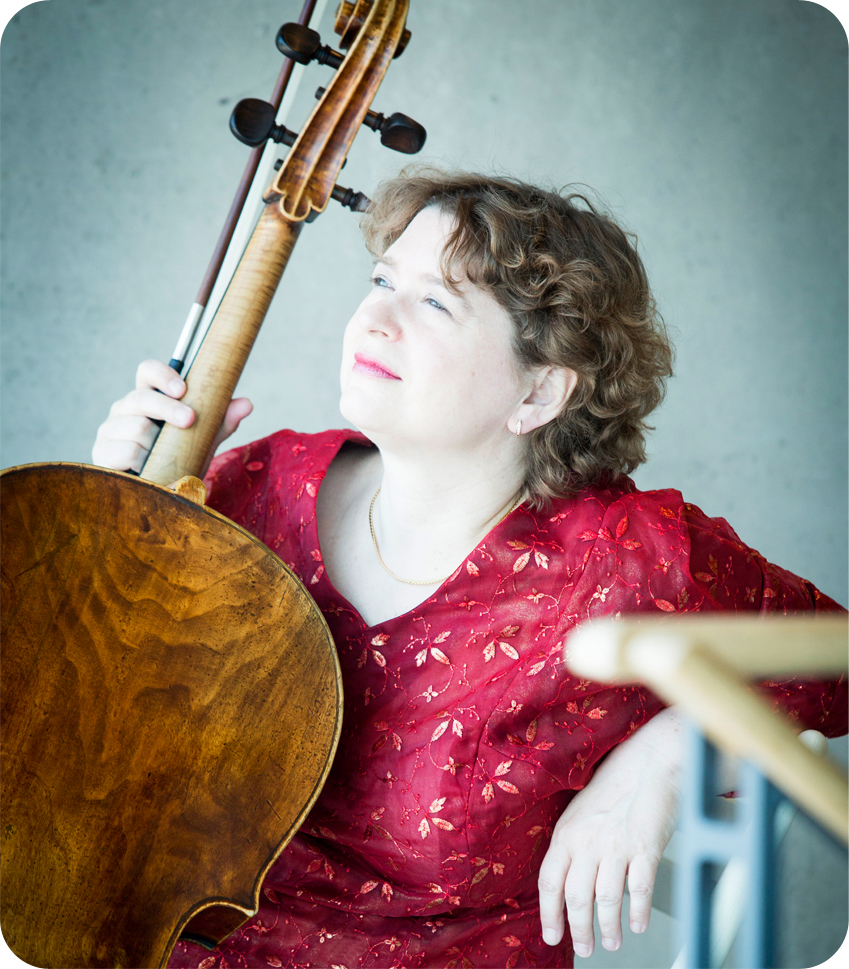 Canadian born, Dutch cellist Pamela Smits has received wide acclaim for her phenomenal command of technique and expression, and for her distinctive musical presence and charisma. "Smits's technical wizardry is nothing short of amazing, but it's secured in service to an equally instinctive musicality". -Jerry Dubins, American Fanfare Magazine. She enjoys a varied career, which combines appearances as a cello soloist, chamber musician and educator. Her extensive repertoire reflects her broad musical interests and encompasses works from the Baroque and Romantic periods to contemporary music.

Pamela Smits has toured extensively throughout Europe and elsewhere, performing in the United States, South America, the Antilles, Costa Rica, Hong Kong, Israel, and Finland. She gave recitals in the Concertgebouw in Amsterdam, the Mozarteum in Salzburg, the Meistersaal in Berlin and at the Edinburgh Festival in Scotland. As a soloist she has appeared with orchestras on both sides of the Atlantic, performing cello concertos by C.Ph.E. Bach, Beethoven's Triple Concerto, Boccherini B-flat major, Gulda, Händel for 2 cellos, Haydn D major, Hans Kox, Schumann, Tchaikovsky's Rococo Variations, and Vivaldi for violin and cello.
She has several world-premières to her name. In 2013 she gave the world-premiere of the 2nd cello solo sonata by Hans Kox dedicated to her, and in 2014 the world premiere of the Requiem 'Infinite Compassion' by Dutch composer Frank van Gompel for cello solo, choir and orchestra, specially written for her. Currently the American composer Heather Pinkham is writing two new works for her; a composition for cello solo and a composition for cello solo and stringorchestra, the world premieres of which will be performed next season.
The Sonata, dedicated to her, fits her like a glove: musical extremes that demand great technical skill.. The soulful playing of Smits inexorably impresses that despair upon the listener...The last movement provides ample scope to Smits' intuitive almost improvising way of playing. -Haarlems Dagblad, the Netherlands.
In 2010 she was invited for three seasons by the Posthuis Theater in Heerenveen (NL) to create her own annual series of 7 concerts with additional masterclasses, where she performed with acclaimed artists like violinist Isabelle van Keulen and trumpettist Peter Masseurs. In 2013 she founded the concert series Vriendenconcerten at the beautiful 17th century Zuiderkerk in the centre of Amsterdam and has been its Artistic Director since.

She regularly gives recitals with pianists , such as with German pianist Sabine Simon, with whom she has been collaborating for almost 25 years, performing in joint recitals in various tours together in the USA, Germany, Austria and the Netherlands. With pianist/composer Olli Mustonen, she gave a well received recital in Amsterdam (2021), including the performance of Mustonen's Taivaanvalot (Heavenly Lights 2019) for tenor, cello and piano, together with Mexican baritone Emmanuel Franco and the composter behind the grand piano. She regularly collaberates with Dutch pianist Tobias Borsboom ever since 2017, after inviting him as guest-programmer of the concert series Vriendenconcerten for two seasons. Their playing was immediately met with great enthusiasm by the press and public :
They enchanted with their playing ..There two poets of the keys and strings had found each other. -Westdeutsche Zeitung, Germany.
This season she is working intensively with violinist Tosca Opdam, whom she has asked as Artist in Residence for the Vriendenconcerten series. One of the highlights is the collaboration with the Amsterdam Museum, in concerts in which music and images complement each other. She also enjoys working together in an interdisciplinary context, giving performances in collaboration such as with musicologists Dr. Albert van der Schoot and Michel Khalifa, actors David Lucieer and Julia Akkermans, and music painter Maryleen Schiltkamp.

An avid chamber musician, Pamela Smits has collaborated with acclaimed artists, such as the Miami String Quartet, clarinettists Michael Collins, David Kweksilber and Arno Piters, oboist Pauline Oostenrijk, trumpettist Peter Masseurs, flautists Abbie de Quant and Marieke Schneemann, flamenco guitarist Edsart Udo de Haes, tubaist David Kutz, percussionist Nando Russo, harpsichordist Chris Farr, pianists Olli Mustonen, Paolo Giacometti, Jee Won Oh, Daniël Kramer, Maarten den Hengst, Mirsa Adami, Frank van de Laar, Sander Sittig and Hans Eijsackers, violinists Isabelle van Keulen, Jaime Laredo, Lucian Leonard Raiciof, Elisabeth Perry and Daniel Rowland, violists Giles Francis, Richard Wolfe, and Joël Waterman, double bassists Quirijn van Regteren Altena and Rick Stotijn and many others. She is also the founding cellist of the Pentachord Ensemble (2010); with violist Emi Ohi Resnick, violist Mikhail Zemtsov, double bass player Quirijn van Regteren Altena and pianist Maarten den Hengst; and of the Voyager Trio (2018); with saxophonist Arno Bornkamp and pianist Tobias Borsboom.
She has recorded several CDs; Felix Austria and The French Cello with pianist Sabine Simon, All time Favourites with pianist Maarten den Hengst, Die Todesfrau by Hans Kox with flautist Abbie de Quant and the Nederlands Kamerkoor. In 2022 she will release a recording project Hungarian Canvas with Tobias Borsboom to include pieces by Liszt, Bartók, Popper, and Kodály Sonata for Solo Cello Opus 8.
She has appeared on many radio- and television broadcasts at home and abroad. She performed during a live radio broadcast of the Dutch National Radio in a special homage concert at the Philharmonie in Haarlem to commemorate the 80th birthday of the Dutch composer Hans Kox, and several times in live broadcasts from the Spiegelzaal of the Concertgebouw in Amsterdam.
Having taught since the age of 16, serving as a teaching assistant to Jiří Prchal at the Stedelijk Conservatory Leeuwarden for three years, she takes a special interest in teaching. In 2008 she gave a masterclass via a -at the time pioneering- high speed internet connection in collaboration with Internet2, InHolland and the New World Symphony in Miami Beach, which was viewed at universities all over the world. She has given masterclasses in Germany, the United States and the Netherlands, for venues such as at Duke University, Newark Academy in New York, the NRC Café in Amsterdam and the Akademie für Tonkunst in Darmstadt. For 4 seasons (2012-2015) she was the cello and chambermusic teacher of and international summer course at the Landesmusikakademie Hessen in Schlitz (Germany). She was also active as a cello teacher in a project for underprivileged children in Miami Beach in 1997. Ms. Smits frequently gets asked to give coachings to cello sections of orchestra's such as the Netherlands Youth Stringorchestra, Sweelinck Orchestra, the Britten Youth Stringorchestra, and also teaches chamber music and cello privately in Amsterdam.
From 1994 to 1997, Ms. Smits was principal cellist of the New World Symphony in Miami, directed by Michael Tilson Thomas. She was awarded an honorary prize for her performance during the National Postbank Sweelinck Cello Competition in 1992 in Amsterdam (NL), and won the Indiana University Cello Competition in 1993 in Bloomington, Indiana (USA).
She studied with Czech cellist Jiří Prchal at Stedelijk Conservatory Leeuwarden, completing her Bachelors at the age of 19, and with Jean Decroos -principal cellist of the Royal Concertgebouw Orchestra at the time- for four years at Sweelinck Conservatory Amsterdam, where she graduated with her Diploma of Music Performance. A recipient of various Dutch scholarships, she furthered her studies with famed cellist and teacher Janos Starker at Indiana University in Bloomington, USA for two years, where she received the Performer Diploma and also worked with pianists György Sebök and Shigeo Neriki in various chamber music programs.
She participated in summer courses and masterclasses given by Anner Bijlsma, Natalia Gutman, Lynn Harrell, Steven Isserlis, Ivan Monighetti, Miloš Šádlo, Paul Tortelier, Tsuyoshi Tsutsumi, Saša Večtomov and the renowned pianist/teacher György Sebök in Ernen, Switzerland.
Ms. Smits is the daughter of pianists Greta Lang (student of Cornelius Berkhout and Bela Siki) and Ben Smits (student of Cornelius Berkhout and Clara Haskil) and she currently lives in Amsterdam, the Netherlands.