I know, I know..I haven't been posting anything new on my blog for over two years. Not that I didn't have anything to report! It was just insanely busy, and I also had to deal with personal losses having an immense impact on me. An intense time altogether. I simply had to keep breathing and go with what was thrown at me.
Despite difficult times a lot of exciting things has happened as well. Touring twice in the USA and Germany; first time with long time friend and duo partner pianist Sabine Simon, giving concerts and masterclasses at Duke University and New York; and one year later we were joined by American clarinettist Allan Ware. Performed a lot of really nice concerts, playing different programs with many wonderful musicians. Recorded and released a CD for Universe Classics with pianist Maarten den Hengst, started an own concert series in Amsterdam and a Foundation to support it, etcetera, etc..

Together with my duo partner pianist Maarten den Hengst we started our own concert series Vriendenconcerten in a beautiful 17th century big church, smack dab in the middle of old Amsterdam. We invite wonderful musicians to play with us in great and greatly varied programs. Every month a different concert. On top of that we always try to organise something extra with the concert, like a wine tasting or an exclusive diner. It's been a great ride so far, and this year we have expanded with masterclasses and workshops. Since programming, playing concerts, organising a fringe program, marketing, getting funding to make this all happen, and the many many daily tasks is too much for the two of us to take on, we have a Foundation, Stichting Vriendenconcerten. The foundation is of great value, helping and overseeing everything. However, we are still manpower (marketing and cash!) short, so anyone reading this article who thinks he or she can help out…yes please! Volunteers, and getting help in funding is very much welcomed and appreciated.

What also excites me is the summer course in Germany where I'll be teaching cello and chamber music. Next week I'm going for the second time. Last year was my first time coaching masterclasses in the beautiful ambience of Hallenburg Castle in Schlitz, where German pianist Sabine Simon and Hungarian violinist Babette Andruk are teachers in the course as well. Dutch violist Judith Wijzenbeek is also on the roster, but that course had to be cancelled due to expecting to deliver her baby any time soon.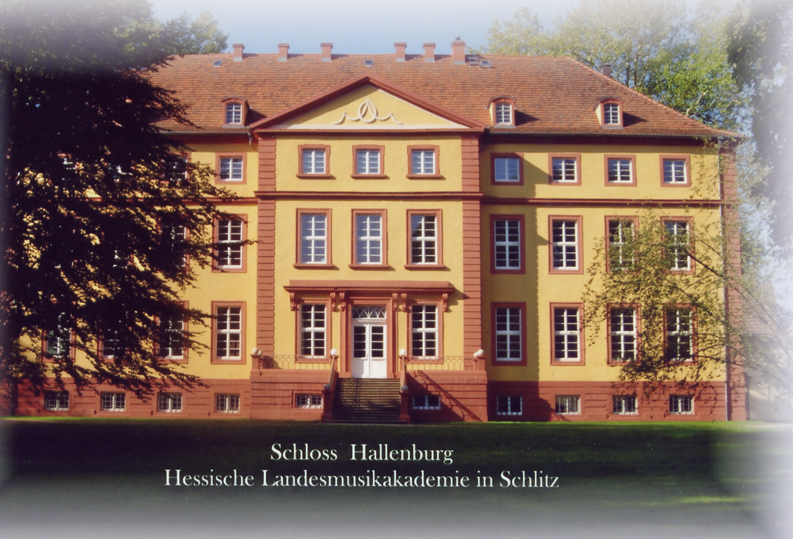 I have to say I love the formula where we teachers all teach all the participants no matter what instrument, and it has proven to be really inspirational to us all. Due to last years success the course is officially on the roster of Landesmusikakademie Hessen -closely associated by the German national Jugend Musiziert- and its going to be an annual summer course in Schlitz. I'm looking forward to next week! Not only to meet the cellists, violinists and pianists that are going to play their solo and chamber repertoire for me, but also to play at the faculty concert with my esteemed colleagues. Beautiful pieces like the Chopin Polonaise Brillante and Mozart piano quartet are on the program, but also the Kodály duo for violin and cello with Hungarian violinist Babette Andruk is something I'm really looking forward to. Babette is a former student of the famed Hungarian Sándor Végh and having studied myself with other Hungarian giants like Janos Starker and György Sebök… well I really hope the deceased Hungarian composer will smile upon us from the heavens.

I do hope my life will stay in calmer waters now, having time to breath and smell the roses.. and also update my blog once in a while. Although not too calm, since I also love being busy giving concerts, teaching and travelling the world. I feel so grateful, especially in this day and age, to be able to make a living concertizing and touching peoples lives through music.
Happy times

Pamela
Sunday morning 28th of April at 05.00 am in Bloomington the cello world lost one of its true greats with the passing of Janos Starker. I feel privileged and blessed to be one of those lucky enough to have studied with him.
Last Thursday I received an email informing me he had slipped into a coma and I knew his time was coming to - in his own words- 'step out of the picture'. Though I often think about him, my mind went automatically back to my studies and the times I spent with him.
I first met him as a participant in a 3 week masterclass in Lausanne when I was 17 years old. The last day of the course he threw a party – I later discovered his student parties at his house in Bloomington were famous- and that day happened to be on my 18 birthday. A fact that didn't go passed him, immediately buying me a cuba libre (rum/coke) and instigating for everybody to sing happy birthday to me. At the time I was not his full student yet, but his true caring and our correspondence before and after I was his student in Bloomington is something I cherish.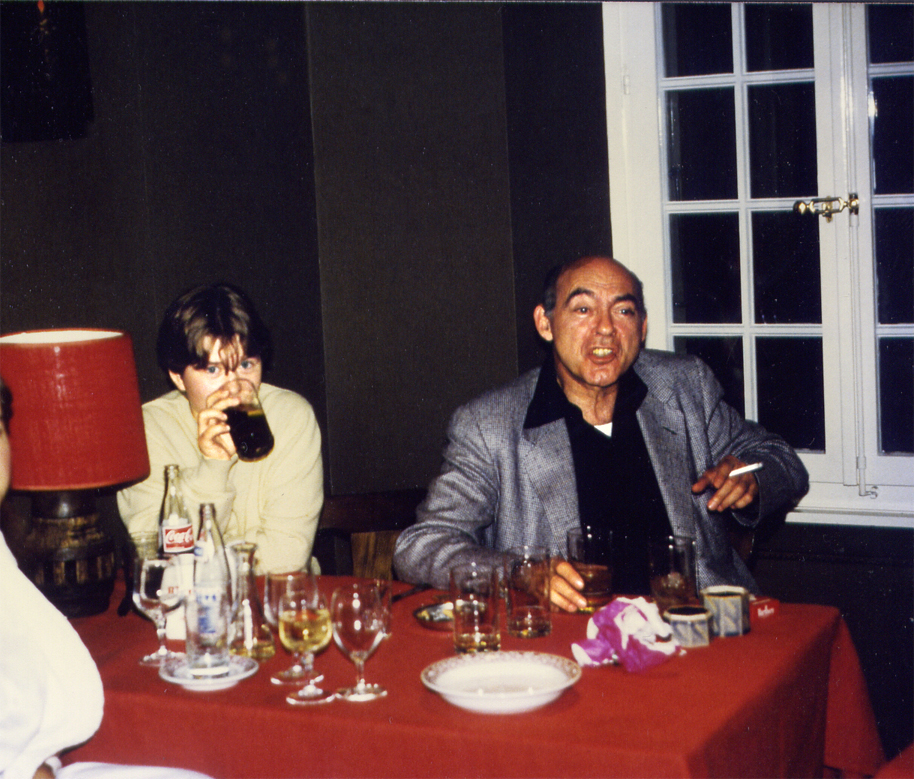 His genius touched many all over the world through his concerts, recordings, teachings and his authentic persona… with his sharp wit and great black sense of humour! Many others have described him far better then I can, so to read interviews and tributes, please visit:
www.cello.org/Newsletter/Articles/starker
cellobello.com/legacy/starker-the-teacher
www.bruceduffie.com/starker.html
www.cello.org/Newsletter/Articles/starkerelpaso
indianapublicmedia.org/news/world-renowned-cellist-janos-starker-dies-88-48050/
www.telegraph.co.uk/news/obituaries/10025887/Janos-Starker.html
www.artsjournal.com/tribute-to-the-greatest-of-cello-teachers.html

and just a few of his sayings:
"I can not perform without teaching and can not teach without performing." .. "When you have to explain what you are doing, you discover what you are really doing."
A statement I understand completely and also live by myself.
Quoting his lifelong friend, (and one of my mentors as well) pianist György Sebök, Starker frequently told us students: "Create excitement. Don't get excited."
"What is the role of music in society?...Music is one of the essentials in human existence, almost identical with eating, sleeping, making love, the basic functions that keep a human being alive. Music simply, is one of the blessings and joys of civilized human existence."
In a 2006 interview for Strings, Starker told Katherine Millett why he teaches:
"For the past 48 years I have been here, and for 37 of those years I was playing 100 concerts a year," he said. "Yet the most important thing for me is teaching. I was basically born to be a teacher. That's my temperament. No matter how great the ovation is after a concert, the people eventually sit down and stop applauding. But if you teach, you may affect generations.

"I have a historic hang-up... I am much more concerned with the future than with all the accolades I got for performing. I stayed alive when many other people, including my brothers, were killed in the war. The fact I stayed alive means it is a duty for me to do as much good as I can."

The future was important to him. He wished that what he was doing in his lifetime should last a little with next generations. He was promoting friendship and the chance of learning from one another, something very evident in Bloomington during my studies there. He wished that we're always helping each other with 'the cause' and when leaving his studio would make our mark in the world passing it on to next generations.
Dear teach…I hope you find peace knowing we will "carry the flag for musical beauty and the cello'. He certainly did..
Pamela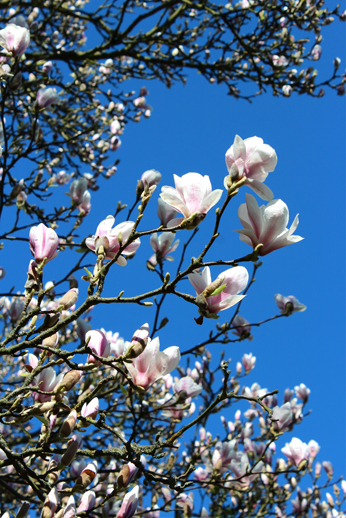 Standing on my balcony I'm looking at the neighbours' large Magnolia tree with its blossom buds ready to burst into flowers. How symbolical! I have some projects coming up that feels to me like buds that hopefully will blossom into something really beautiful.
We're currently working hard to have the 'Pamela Smits & Friends concerts' series relocated to Amsterdam. With still one concert to go, we have had 3 great seasons at the Posthuis Theater in Heerenveen. Concerts given by fantastic and passionate artists. Different instruments where were put in the limelight, i.e. trumpet, clarinet, flute, tuba, saxophone, bassoon, oboe, percussion, guitar, violin, viola, double bass, soprano and of course piano and cello. Often accompanied with something extra like a masterclass, a speaker with video/audio material, a painter exhibiting her paintings especially made on the music of the concert program, a visual artist, diner at a nice restaurant and wine tastings. Since Amsterdam is my hometown where I obviously know quite some people I've often heard comments like 'too bad the concert is so far away.' Great news…the series will come to Amsterdam! Practically in my backyard as we have found a top-notch location very near by where I live. We are going to the Zuiderkerk, a big church with beautiful acoustics, smack dab in the middle of Amsterdam. Together with my pianist Maarten den Hengst as co-organiser we are now brainstorming to again turn this into something special. The first signs are very promising, but there is still a lot to get accomplished before all is done. The opening concert is scheduled for mid-October and when it is all ready to go I'll elaborate more.
Upcoming projects I'm now practising for are two CD recordings scheduled in June. One recording is together with my pianist Maarten having 10 evergreens on the menu. Lets say a sort of 'All time Favorites' repertoire with Spanish showpieces, beautiful Jewish tearjerkers and French bonbons like Ravel's Habanera and Meditation by Massenet. This CD is planned for release around Christmas time by Universe Classics.
Three days before this recording I will record 'Die Todesfrau' by Dutch composer Hans Kox, a work of half an hour for choir, flute solo and cello solo. This project will be recorded by Attacca Records together with the Nederlands Kamerkoor and flutist Abbie de Quant. The cellist who has premiered this piece 7 years ago was not able to do the recording and they asked me to step in and take on the cello part. Very cool. I have a special relationship with the composer Hans Kox. Last month I've given the world première of his 2nd sonata for cello solo. His music is challenging.. never easy to tackle, but with lots of character, drama and complex. It was very satisfying to perform this sonata, that is also dedicated to me, bringing it to life for the very first time.
Another 'project bud' that will blossom in October is a trip to the States…I have been invited with my German pianist Sabine Simon to give a masterclass at the Duke University. We willalsogivesome recitals. Organising the application for a US work visa, plane tickets and such is time consuming and a drag, but necessary to get done on time. I'm very much looking forward to this tour! We will meet up a few times before October to rehearse our program, as it is important with our busy schedules and over 330 miles (500 km) between us to also have that well organized!!
A few weeks ago I was giving a masterclass at the Akademie in Darmstadt (DE) with Sabine sitting front row to help me out like a prompter if I got stuck with a German word. It was a very inspirational couple of days. I love teaching. It gives a lot of satisfaction if you can make a difference in someone's life. And teaching gives me insights myself where I also learn from. I've been fortunate to have had great teachers. It's very rewarding to be able to pass on to others what those mentors on their turn tried to teach me. Like a 'pay it forward'.
The last 'project bud' I would like to mention is a summer course in Germany. From 17 till 22nd of August I will teach a masterclass at the Landesmusikakademie Hessen Schloss Hallenburg in Schlitz. Sabine will be there as well and we'll make a combination of solo- and chamber music course. I've good hopes this will be another inspiring experience. The beautiful surroundings will definitely do its magic! This course is, in the same spirit as the renowned Orlando Festival in the Netherlands, open for students, children and advanced amateurs. Room and board at the premises are available at low costs. Are you, or someone you know, interested in participating or wish to get some more information, please don't hesitate to send me an email at info@pamelasmits.com. There is a big playing field to play soccer, so I've been told, and lots of practise- and rehearsal rooms in the building.
What wonderful 'project buds' to look forward to!!
Pamela